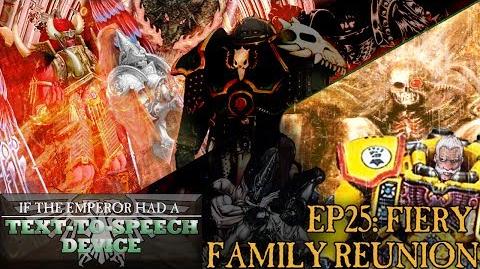 Episode 25: Fiery Family Reunion is the fifth main episode of the third season of If The Emperor Had a Text-To-Speech Device.
Appearances
Edit
Brainghost Ferrus Manus
The Lost Phantom Titan of Mor-rioh'i
This episode includes plot hooks for two separate spinoff series; BRO TRIP 40,000, a spinoff series in which Vulkan and Corax will tour the Imperium together, and a book review series called "If The Emperor Had a Podcast."
Ad blocker interference detected!
Wikia is a free-to-use site that makes money from advertising. We have a modified experience for viewers using ad blockers

Wikia is not accessible if you've made further modifications. Remove the custom ad blocker rule(s) and the page will load as expected.